Carbon monoxide (CO) is an extremely poisonous gas that is tasteless, odourless and colourless; it is produced by the incomplete burning of fossil fuels, such as gas, wood and coal. 
Household appliances that we use every day to heat our homes and cook our meals, can cause a carbon monoxide leak if they are faulty, poorly maintained or incorrectly installed. 
Known as the 'silent killer', exposure to carbon monoxide gas can cause a range of symptoms, from headaches and nausea to loss of consciousness – and at worst, death. 
So, how do you know if you and your loved ones are at risk, if carbon monoxide is near impossible to detect? The best way to stay protected is by installing a carbon monoxide alarm – designed to alert you to the danger when even low levels are detected in your home.
In this blog, we will discuss the different levels of carbon monoxide exposure, the impacts on the human body, and how to protect yourself from the dangers.
What causes a carbon monoxide leak?
Carbon monoxide is produced by household appliances that are powered by fuel, such as furnaces and boilers, fireplaces, log burners, and cookers. If these household appliances stop functioning correctly, it can result in the incomplete combustion of fuel and a build-up of carbon monoxide within your home.

What levels of carbon monoxide exposure are dangerous to my health?
Carbon monoxide poisons the body when it enters the bloodstream and lowers the amount of oxygen that can be carried around the body. The symptoms of carbon monoxide poisoning include:

Headache
Nausea
Difficulty breathing
Dizziness 
Convulsions
Collapse
Loss of consciousness 
The amount of carbon monoxide in the air is measured in parts per million (ppm) – the higher the CO concentration and the longer you are exposed, the worse the symptoms will become, even resulting in death.
35 ppm – the maximum allowable CO concentration for continuous prolonged exposure in any 8 hour period according to OSHA. 
150 ppm – a slight headache after 1.5 hours of exposure 
200 ppm – a slight headache, fatigue, dizziness and nausea after 2-3 hours
400 ppm – frontal headaches within 1-2 hours. These CO levels become life-threatening if exposed for longer than 3 hours.
800 ppm – dizziness, nausea and convulsions within 45 minutes of exposure. A person can become unconsciousness within 2 hours and death is possible within 2-3 hours. 
1,600 ppm – headache, dizziness and nausea within 20 minutes. Death within 1 hour. 
3,200 ppm – headache, dizziness and nausea within 5-10 minutes. Death within 25-30 minutes
6,400 ppm – headache, dizziness and nausea within 1-2 minutes. Death within in 10-15 minutes
12,800 ppm – these dangerous levels are fatal within 1-3 minutes. 

Carbon monoxide poisoning leads to approximately 200 hospitalisations every year in the UK alone, which results in around 60 deaths. 
To protect your home from CO you should install and maintain a carbon monoxide alarm and be aware of the associated symptoms. 
Detect carbon monoxide in your home
The best way to protect your family and home from carbon monoxide poisoning is to install a carbon monoxide alarm. For the best protection, we recommend fitting carbon monoxide alarms in line with BS EN 50292:2013 – the guidance says that alarms should be fitted in:
Rooms that have any fuel burning appliances – such as an open fire, gas cooker or boiler
Rooms where people spend the most time – such as a living room
Rooms where people sleep
Any room that has a flue running through it
We also recommend testing your carbon monoxide alarms once a month to ensure they are working order for the best protection. 
What carbon monoxide levels will trigger my alarm?
Your carbon monoxide alarm is designed to trigger in response to how quickly the levels of carbon monoxide in the room will begin to effect the human body. Based on our Ei3018 carbon monoxide alarm, the response times and alerts are as follows: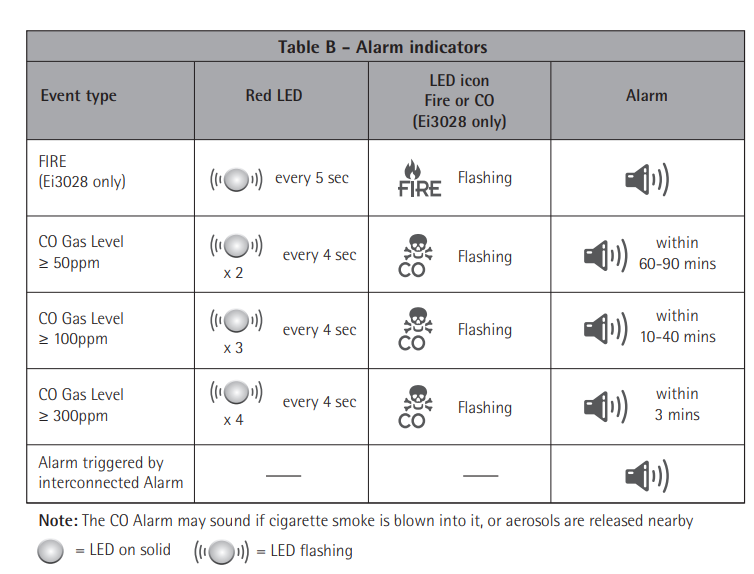 It's important to know exactly what your carbon monoxide alarms sound like, so it isn't mistaken for anything else! If your alarm is triggered, it will beep three times, followed by a pause. This sequence will continue until the level of carbon monoxide in your home has dropped to a safe amount.
Carbon monoxide alarm legislation for rented properties in England
Effective from 1st October 2022, there will be a new legislation for carbon monoxide alarms in rented properties in England. 
If you rent your home from a private or social landlord, here is what must be provided in your home:
Your landlord must install a CO alarm in any room of a property that contains a fuel burning appliance
Cookers are excluded from this requirement. However, the use of CO alarms in rooms with fuel burning cookers is still recommended within the British Standard, BS EN 50292
Any Carbon Monoxide alarm installed must comply with BS EN 50291-1
The CO alarm can be either battery or mains-powered
There is no requirement for CO alarms to be interconnected with a property's existing fire alarms
Your landlord must ensure every carbon monoxide alarm and fire alarm are working at the beginning of your tenancy
Your landlord is responsible for repairing or replacing your carbon monoxide alarms when you notify them of a fault
But as a tenant, you also have a part to play in adhering to the new legislation. You are required to:
Test your alarms regularly to ensure they are in full working order
Notify your landlord immediately if you think your alarms are not working correctly
Click the link to find out more about carbon monoxide alarm legislation for rented properties. 
Servicing and maintaining fuel-burning appliances
Another way to stay safe from carbon monoxide is to have any fuel-burning appliance, such as boilers and cookers, regularly serviced by a registered engineer. This will ensure that your appliances are working correctly and unlikely to cause a carbon monoxide leak. 
It's also essential that chimneys and flues are free from blockages to aid proper ventilation, reducing the risk of a build-up of carbon monoxide. Once a year, you should organise for a qualified sweep to clear the chimney or flue from top to bottom. 
What to do a carbon monoxide emergency
If your carbon monoxide alarm sounds, always err on the side of caution and follow the correct emergency procedures.
Open all nearby windows and doors to allow fresh air to ventilate the property
If it is safe to do so, turn off all fuel-burning appliances 
Evacuate your home and leave all the windows and doors open 
Alert the National Gas Service and call 0800 111 999
Do not re-enter your home until a professional has said it is safe to do so
Seek medical attention immediately if you think you or a family member have been exposed to carbon monoxide and are experiencing symptoms of poisoning
Avoid using the faulty appliance until it has been serviced and repaired by a registered engineer
If you want to find out more about carbon monoxide and what you can do to stay safe, visit our carbon monoxide awareness page.