Wolverhampton Homes have embarked on a comprehensive refurbishment programme with a focus on enhancing living standards. This initiative aims to upgrade existing properties, incorporating energy-efficient technologies and modern design concepts.
Wolverhampton Homes, a leading housing provider in Wolverhampton, manages a stock of over 22,000 properties.  They aim to provide their residents with great homes in clean, safe neighbourhoods.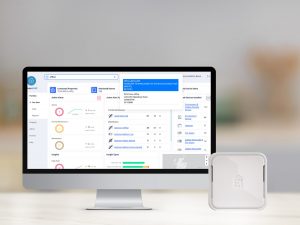 The Connected Home Solution
Wolverhampton Homes as part of their SHDF project will be installing HomeLINK Environment Sensors to monitor temperature, humidity and Carbon Dioxide (CO2) within their properties. The initial project will see 400 properties benefit from a combination of Ei1020 and Ei1025 Environmental Sensors to assist with monitoring in line with the requirements of PAS2035. They will have the benefit of gaining valuable insights into;
Indoor air quality
Damp and mould risk
Void property detection
Fuel poverty indication
George Williams, Programme Manager for Wolverhampton Homes, commented on the project "The HomeLINK Connected Home Solution really suits the needs of the project for Wolverhampton Homes, the sensors, dashboard and resident app that Aico offer is fantastic.  Factors that came into our selection process were that Aico is an established company and we have been using their products for many years. They also have a proven track record in manufacturing with their own factory ensuring product reliability. The scalable deployment of IoT technology allows for future integration of further products."
Gareth Butler, Regional Specification Manager for Aico added "It has been a real pleasure working closely alongside George and the team at Wolverhampton Homes, from the initial conversations looking at the requirements for their project to identifying the solution that answered all their needs. I'm looking forward to working in collaboration with Wolverhampton Homes and their supply chain partners to ensure a successful project outcome for all involved."
We are delighted to partner with Wolverhampton Homes on this project.  By investing in their housing stock, Wolverhampton Homes are dedicated to creating comfortable, sustainable and safe living spaces for their residents. Through this forward-thinking approach, they continue to elevate the standard of housing in the community, ensuring a brighter and better future for all.
To learn more about the Connected Home Solution, please visit: https://www.aico.co.uk/homelink/