Smoke alarms are often the first line of protection when it comes to household fires, being the first warning to the occupant that there is a fire in their home. That is why it is important to not only have smoke alarms fitted in your home, but to make sure you have the right type of alarm fitted in the correct locations to detect fire as quickly as possible.
Different Properties, Different Smoke Alarm Requirements
Each property type will have different needs and legislative requirements when it comes to installing smoke alarms. With houses requiring more smoke alarms than flats, due to the greater area needing to be covered.
The placement and number of smoke alarms installed will also vary depending on where in the UK you live. Throughout England and Wales there are building recommendations that you have a heat alarm in the kitchen, with an optical smoke alarm in the common areas of each floor of the house. It is also suggested that you should install smoke alarms in the bedrooms too, to ensure occupants are woken up and alerted if a fire is present.
However, if you live in Scotland, as of February 2022 you are required to have an interlinked smoke and heat alarm system installed. This means that when one alarm is triggered, all the alarms in the home sound in unison for more effective fire safety protection. Smoke alarms are required to be installed in the most used room within the home (likely the living room), hallways and landings, with an Ei3014 interlinked heat alarm in the kitchen. These are required to be mains powered or to come with a sealed, long-life, tamper-proof battery, instead of replaceable ones.
Homes with a fuel burning appliance, like a boiler or log burner, will need to have Carbon Monoxide (CO) alarms installed in the same room as the appliance. Cooking appliances do not need to be covered by a CO alarm, however it is recommended for additional safety. These CO alarms do not need to be interlinked with the rest of the alarms.
Where to install smoke and heat alarms?
It is important to make sure your alarms are installed in the correct location to ensure it provides lifesaving detection and the quickest response to fire.
Heat and Smoke Alarm Locations
Smoke alarms are suitable for the following rooms:
Living Room
Bedrooms
Landings and hallways
Dining room
Heat alarms, on the other hand, are ideal for the kitchen as they are less sensitive to cooking fumes, which will prevent false activations.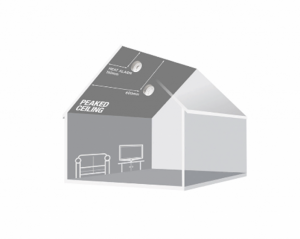 These heat and smoke alarms should be sited on the ceiling, as central as possible within the room or area they are being installed, as smoke initially rises before spreading out. Resulting in the smoke hitting the sensor of an alarm on a ceiling quicker than if it were placed anywhere else. It should also be sited 300mm from the walls, light fittings, or any obstructions to airflow, to ensure they are not within 'dead air' spaces and work accurately.  If you have a peaked or sloped ceiling where an alarm needs to be fitted, here is where it should be sited:
Smoke Alarms – site a maximum of 600mm vertically down from the apex.
Heat Alarms – a maximum of 150mm vertically down from the apex on the slope.
It is recommended that there should be a smoke alarm placed within 3 metres of every bedroom door to ensure audibility and that they should be installed in circulation spaces such as hallways and landings. These alarms should not be placed in bathrooms or close to the bathroom door as the steam and resulting moisture can affect their performance.
For further information on siting locations, and other factors to consider when installing smoke alarms throughout your home check out our alarm installation help and support section.
Which alarm where?
Smoke Alarms
Smoke alarms containing Optical Sensors use an infra-red beam to detect smoke. They detect smoke from slow, smouldering fires such as electrical fires.
We recommend the Ei3016 Mains-Powered Optical Smoke Alarm, with the BS 5839-6:2019+A1:2020 regulations stating that optical smoke alarms are more suitable for installation within circulation areas (hallways and landings) adjacent to kitchens.
Optical smoke alarms are also suitable for use in the living room (as required within Scottish legislation) and for bedrooms.
Heat Alarms
Heat alarms contain a thermistor which detects a substantial increase in temperature, indicating there could be a fire.
As the sensor detects heat rather than smoke, it is the perfect choice for kitchens, as it will not be triggered by cooking fumes and will reduce false alarms, such as burning toast. We recommend using the Ei3014 Heat Alarm in the kitchen.
The alarm will only trigger once the temperature reaches 58°C degrees. Although this is adequate for kitchens and garages, it should not be used in other areas of your home as it will not provide the speed of response required – smoke alarms should be used instead.
Carbon Monoxide Alarms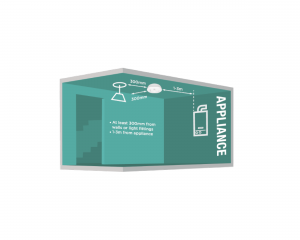 Carbon Monoxide is often referred to as the 'silent killer' – as this gas has no odor, colour or taste, detection without a CO alarm is almost impossible. Gas, LPG, and oil boilers are all common causes of CO when faulty, as well as wood or coal burning fires and log burners.
We recommend fitting a Carbon Monoxide Alarm in the following areas for early detection:
Rooms that have any fuel burning appliances – such as an open fire or log burner, gas cooker or boiler
Rooms where people spend the most time – such as a living room
Rooms where people sleep
Any room that has a flue running through it – i.e. bedrooms
We recommend the Ei3018 mains-powered Carbon Monoxide alarm.
Multi-Sensor Alarms
Our Multi-Sensor Fire Alarm, Ei3024 Multi-Sensor Fire Alarm, contains two sensors, smoke and heat, to provide total fire response to both fast flaming fires and slow smouldering fires. The Ei3024 is suitable for bedrooms, dining rooms, living rooms, lofts and circulation spaces; homes with an open-plan kitchen and living room can also benefit from multi-sensor alarms.
For kitchens and garages, we would recommend the Ei3028 Multi-Sensor Heat & Carbon Monoxide Alarm, which detects both heat and Carbon Monoxide from a single alarm – it's vital to protect against both risks.
Fire Alarm Maintenance and Testing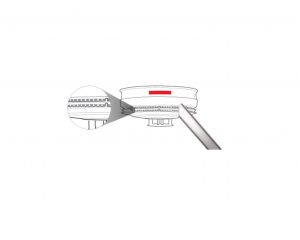 It is important to regularly clean and perform alarm maintenance checks to minimise the risk of nuisance beeps and false alarms, and to ensure it provides life-saving protection.
Before cleaning your alarm, you need to turn off the mains power, this should result in the green light going out.
Then, with a thin nozzle attachment of the vacuum, clean around the vents of your alarm.
Using a damp cloth, clean the cover of the alarm, drying it with a lint-free cloth.
Then turn the mains power back on and check the green light is on constant.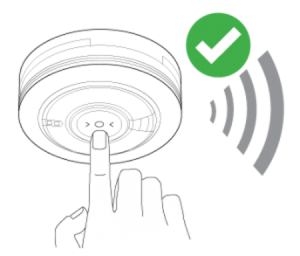 This will not only help prevent false alarms and error codes, but ensure your alarm stays in working order for the remainder of its life.
Maintenance is not just about cleaning. Remember to regularly test smoke alarms to ensure they provide continued protection. Smoke, heat and Carbon Monoxide alarms should be tested monthly.
Simply press the test button for 10 seconds, causing the alarm to sound loudly. If it activates, this means it is working. Quick and easy to do. check out our testing guide.
For more information on when to change your alarm for a new one, check out our alarm maintenance cleaning informational page.