On Sunday the 15th of October 2023, employees from Aico took part in Adrenaline Sporting Events, Oswestry 10k run. This event welcomed individuals of various fitness levels, ranging from novices to seasoned runners. The race attracted a diverse group of participants, each with their unique motivations for partaking.
Starting and finishing in the heart of Oswestry town, the course took runners along a scenic route that proved both challenging and rewarding. The atmosphere at the race start/finish line in Church Street was electric, with music and flags creating an energetic atmosphere. Upon crossing the finish line, medals were distributed to celebrate the accomplishments of all runners.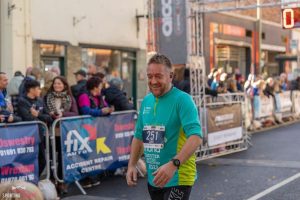 Photograph: Dave Jennings triumphantly crosses the finish line.
Dave Jennings, Technical Advisor at Aico commended "It was a brilliant morning. Lots of friends and people of Oswestry lined the route cheering everyone on. As usual a well-organised event by Adrenaline Sporting Events."
Ryan Evans Aico's Sustainability Lead (Photograph one) successfully completed the event in great time and remarked "Great to take part in the Oswestry 10k on Sunday. The day was perfect for it and great to see so many runners from all over the country taking part. The energy on the day was fantastic and everybody really enjoyed the event."
Adrenaline Sporting Events have donated £1 per runner to Hope House, a charity that provides support and care to children with life-limiting conditions and their families. Aico were proud to be the headline sponsor as well as being able to take part in this meaningful initiative.
Alan Lewis, Founder of Adrenaline Sporting Events was very pleased with the outcome of the race and stated, "The Oswestry 10k of 2023 achieved resounding success, with a sold-out event that witnessed every participant cross the finish line. This even drew individuals from various corners of the country to Oswestry, significantly bolstering support for local businesses."
To find out more about how Aico support the local community through its Aico in the Community initiative, please visit, https://www.aico.co.uk/in-the-community/