Aico hosted a week of educational visits for Whittington Primary School students from the 25th to the 29th of September, at their headquarters in Oswestry.  Whittington Primary School brought a different school year each day, with the students participating in a variety of activities tailored to the different key stages.
Aico in the Community have developed a range of initiatives to support students in their local communities, from work experience placements, providing educational visits and activities, hosting educational events, and offering career advice and guidance.
Each visit began with an arrival and welcome at Aico headquarters, followed by a tour of the facilities. The students learned about the different departments and were given a glimpse into how a successful business operates.
For the younger year groups, students participated in a fire safety workshop which included an interactive challenge and had the opportunity to work on an arts and crafts project, creating their own hazard houses. The workshops are aimed at young people of all ages to make them aware of fire hazards within the home and the danger of Carbon Monoxide.
After the workshop, the students participated in a box challenge with members of Aico's operations team. The box challenge is a fun team-building activity where students work collaboratively to pick and pack an order of Aico alarms against the clock.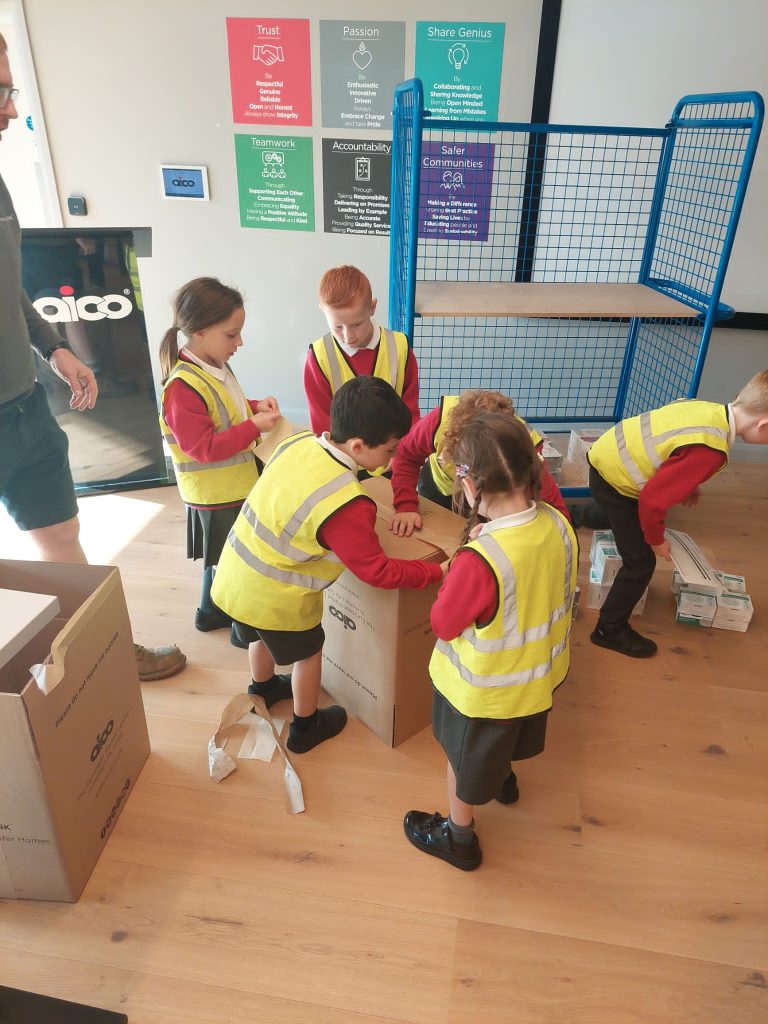 The older students took part in a product development workshop creating their own home life safety products. Colleagues from Aico's technical department also led a wiring challenge, where the students had the chance to prepare an Aico Easi-fit alarm base, encouraging problem-solving and communication skills.
All the students got to present their ideas to the rest of their year group in Aico's auditorium, giving them the opportunity to develop creativity, team development and presentation skills.
Clare Frost, Lead HLTA, from Whittington Primary School, commented on their week at Aico "I just wanted to say a massive thank you, to Jane and Laura from Aico on what has been an incredible week for all our 124 pupils they have hosted. Staff and pupils have raved about the work they do and the experiences they have given to us. It's not easy to impress children but they have achieved that this week. From year 3 loving the chickens, to year 4s crazy presentations on fire in the home, then on to year 5 with life-saving inventions. I just know that year 6 will also have the best time.
We have seen so many wonderful moments with children being able to experience what life is like in a thriving business. The work and effort Aico put into our school is nothing short of miraculous. We honestly can't thank them enough for everything they do and I can't wait to continue this successful collaboration." 
Laura Opechowska, Community Liaison at Aico commented "It was a pleasure to have Whittington Primary School pupils around throughout the week at Aico. They were very excited and looking forward to every challenge. I felt proud of how hard all the children worked and tried their best, pushing themselves to develop their skills."
Aico are committed to supporting students in their local community and believes that these educational visits are an important way to achieve this. To learn more about Aico in the Community's educational offerings, please visit aico.co.uk/in-the-community/education/