Southampton City Council, in partnership with Aico, have recently completed a training day where four sessions were held to ensure each member of their electrical installation team is up-to-date with all the latest legislation and information they need to install domestic Fire and Carbon Monoxide Alarm Systems. Over 35 electricians and managers were trained on the day.
Southampton City Council is a local authority with a social housing portfolio of over 16,000 properties, located in and around the port city on the South Coast of England. One of Southampton City Council's commitments is to make sure residents' homes are safe and well-maintained so they can enjoy a healthy living environment. One of the ways they currently make sure that homes are safe is by carrying out the Landlord required 5 yearly Electrical Installation Condition Reports. These regular home inspections mean that they are continually checking their housing stock to make sure it meets the necessary standards, which include smoke and CO detection.
"Oliver at Aico has been extremely helpful in accommodating us across an entire day. We are unable to take all of the electricians off the road at one time, so we were able to arrange four separate sessions across the day" Phil Tarrant, Electrical Services Manager for Southampton City Council commented. "Continuous professional development is a priority for our team members to help them develop and enhance their abilities".
The British Standards for both Fire and Carbon Monoxide are the top-level documents to guide people on how to design, site and maintain these domestic alarm systems. For fire, the guidance can be found in BS 5839 Part 6 and BS: EN 50292 for Carbon Monoxide. Aico's award-winning, CPD-accredited, Expert Installer training goes through key points in these Standards to help installers and landlords understand what they need to do in order to meet them.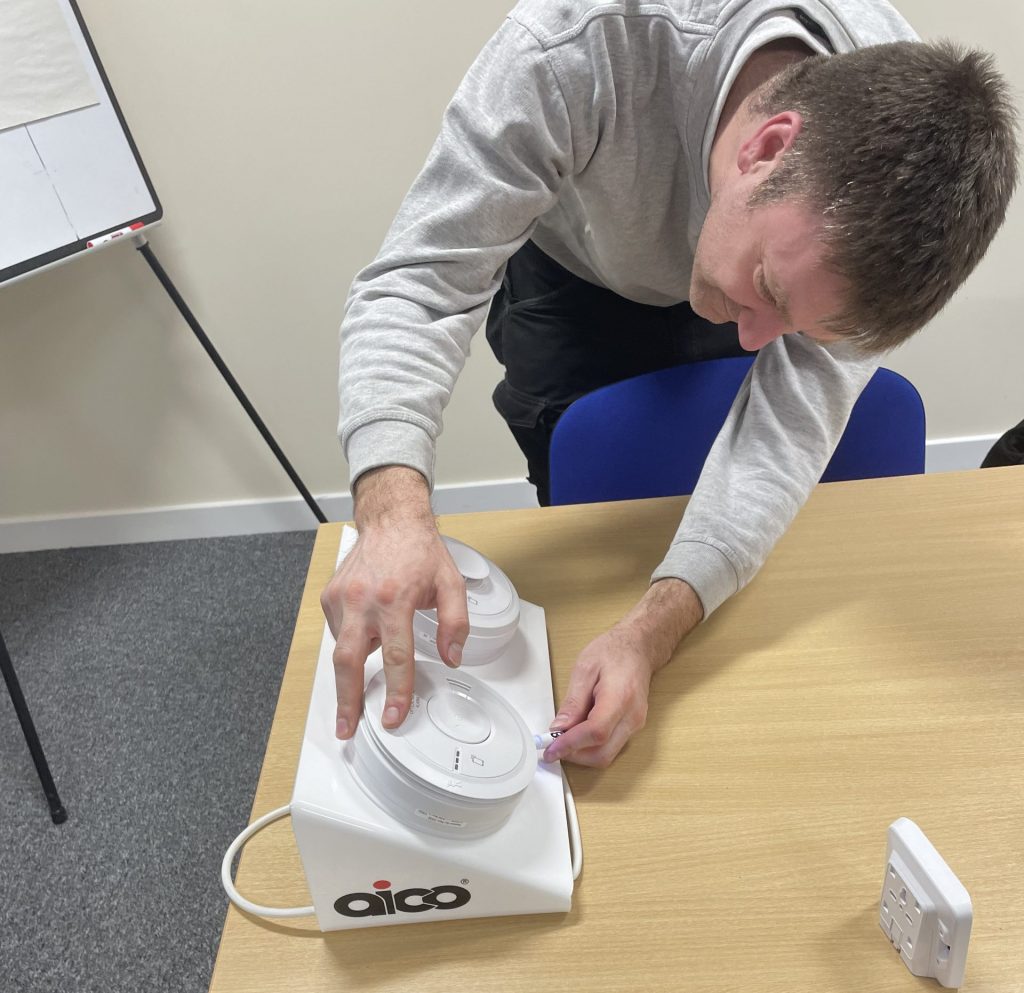 Tristin, one of the electrical team that completed Expert Installer on the day said "It was really useful to get this training to ensure that when we are installing these systems, we are confident we are completing it to British Standards and keeping our residents safe".
Aico's Expert Installer scheme covers Standards & Regulations, system design, alarm types and system installation. The participants are then encouraged to have a go at House Coding the alarms together using Aico's market-leading RF mesh system. During the system design section particular attention is paid to grades of alarm and categories of system and where these should be used.
In rented properties in the UK, a minimum standard of Grade D1 alarms and an LD2 category system should be adopted. Southampton City Council specify this as a minimum in their housing stock and is already well underway with an upgrade programme to get them there within the coming years.
Oliver Barlow, Regional Specification Manager for Aico provided the training added "It was a brilliant day at Southampton City Council. I had the opportunity to train the entire DLO team and ensure that everyone was on the same page when it comes to installing alarms to British Standards. The engagement from everyone was fantastic all day long and they even came up and had a go at house coding the alarms. I'm looking forward to continuing to work closely with Southampton City Council".
If you are interested in learning more about Aico's training programmes, visit our website and get in contact with your local Regional Specifications Manager: www.aico.co.uk/find-a-regional-spec-manager.