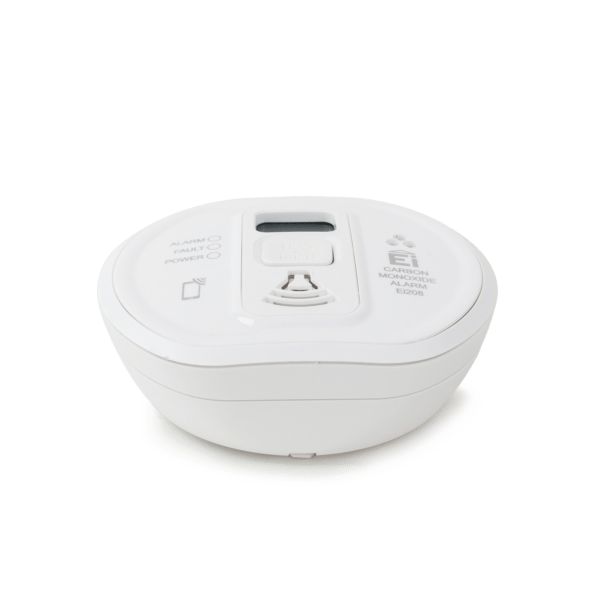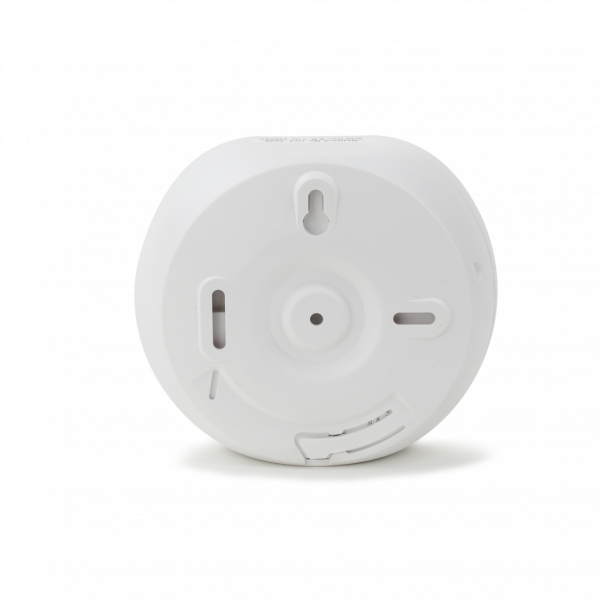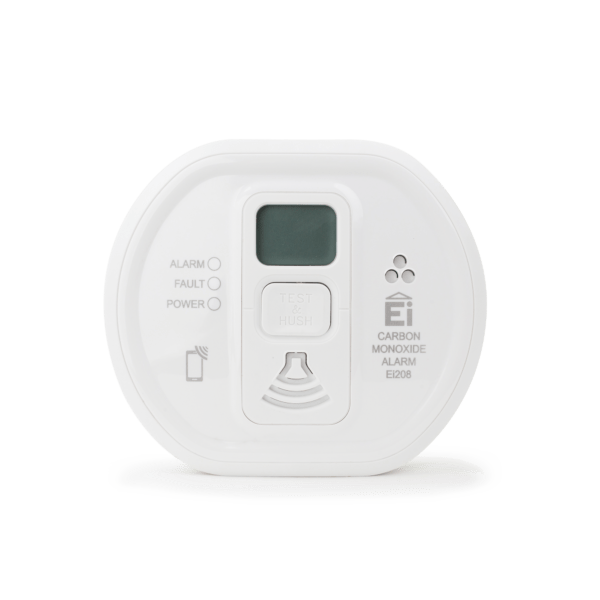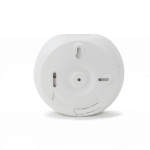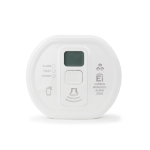 Ei208DWRF Carbon Monoxide Alarm
This product in no longer available.
The suitable replacement is the Ei208WRF.

Product Description
Battery and Lifespan
The Ei208DWRF Carbon Monoxide Alarm is supplied with a powered-for-life sealed lithium battery.
If the alarm is reaching the end of life or a sensor fault is detected the alarm will display a 'Replace Unit' message and the amber fault light will flash three times every minute with three bleeps.
The alarm has an 'End of life' indicator which will notify the user when the alarm needs replacing at the end of its 10-year life.
RadioLINK+
The Ei208DWRF Carbon Monoxide Alarm includes an Ei200MRF RadioLINK+ interconnect module so it can be wirelessly interconnected to Aico RadioLINK or RadioLINK+ devices.
Using the unique 'House Code' feature, an interconnected system will sound all alarms when one detects CO.
Test and Hush
An easy to use 'Test/Hush' button allows the user to check the alarm. This checks all aspects of the alarm (sensor, electronics, battery and sounder).
The 'Test/Hush' button will either silence false alarms (if briefly pressed) or perform a unit self-test (if pressed and held). Note that the alarm cannot be silenced when sensing a CO level of 150ppm or above.
Operation of an Ei208DWRF
The memory feature records the last CO alarm level and can be useful to check if CO has been present while the homeowner or tenant was absent from the property.
When dangerous levels of CO are detected, the LCD will display the CO concentration, the alarm will sound, and the red alarm light will flash as detailed below.
When lower levels of CO are detected, the alarm will display a 'Ventilate' message. When higher levels are detected, the alarm will display an 'Evacuate' message.
Technical Specification
Supply Voltage: Powered-for-life sealed lithium battery.
Alarm Horn: Piezoelectric. 85dB (A) at 3m.
Temperature: -10°C to 40°C. Storage: 0 to 35°C (in a dry area).
Relative Humidity: 15% to 95% non condensing.
Sensor: Proven Electrochemical, 100% calibrated and tested with CO gas to ensure accuracy. CO level is checked every 4 seconds.
Display: 24mm x 20mm x passive LCD display.
Indicator lights: Power up & test – Green. Alarm – Red. Fault – Amber. Test/Diagnostic – Red, amber and green.
Wireless: RadioLINK+ 868.499 MHz.
Mounting: Easi-Fit base supplied for easy slide on.
Fixing: Screw Fixing (supplied).
Mounting: Mounting plate supplied – Twist to power up alarm.
Fixing: Screw Fixing (supplied) and free standing.
Dimensions: 120mm x 105mm x 45mm.
Weight: 180g.
5-year guarantee.
Approvals: BS EN 50291-1:2010+A2:2012 / BS EN 50291-2:2010 / KM 86596
Related Products
The 200 Series offers an extensive range of Carbon Monoxide alarms.