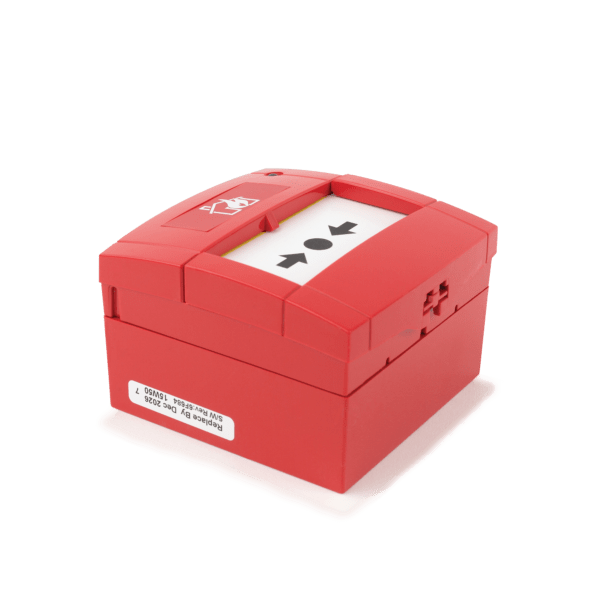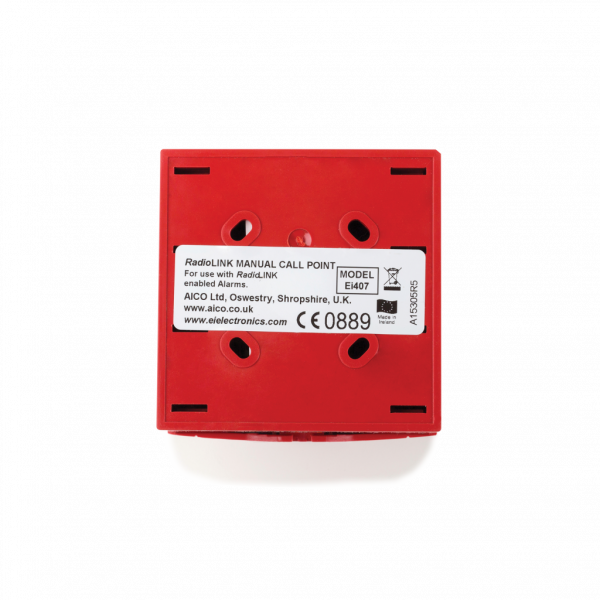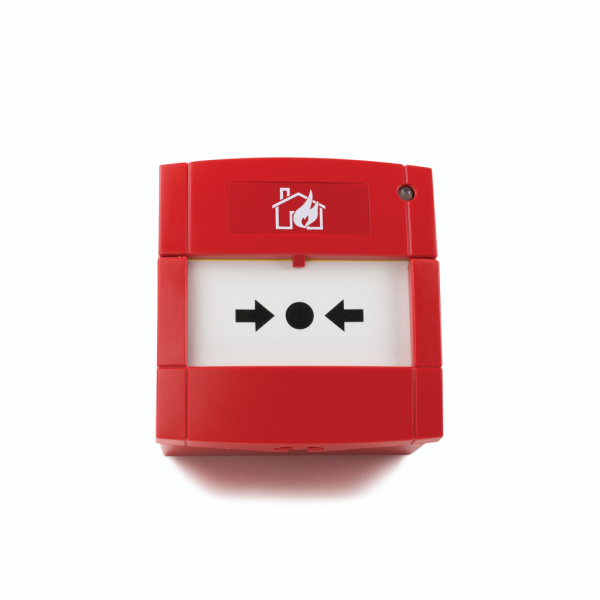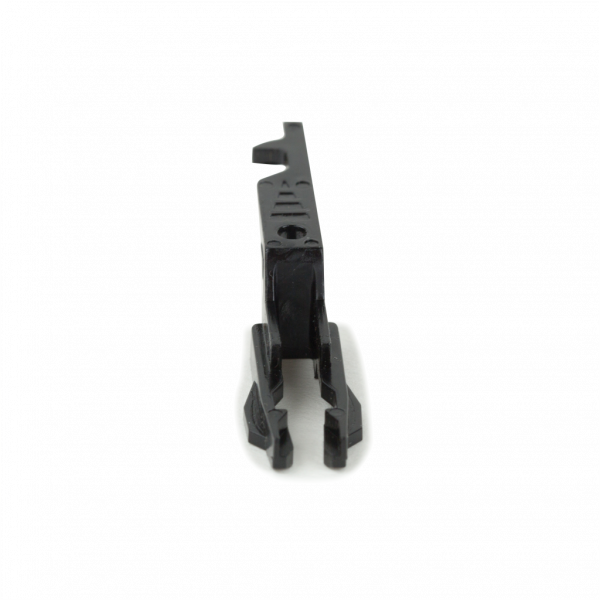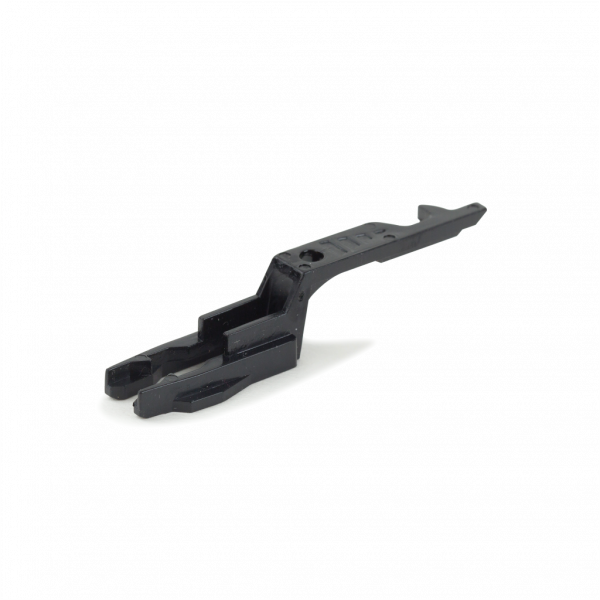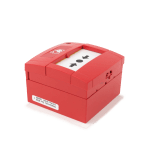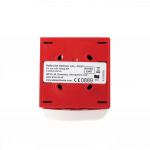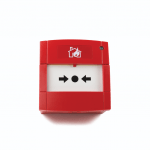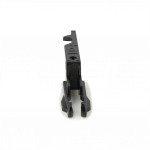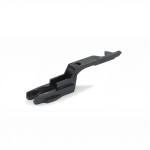 Compatible with:

Ei407 RadioLINK Manual Call Point
The Ei407 Manual Call Point is an emergency device that when activated triggers all the alarms on the connected system.
Allows for remote triggering of an alarm system
Non-breaking, re-settable front plates
Contains 10 year lithium cell – for completely wire free installation
Connects wirelessly with all other Aico wireless interconnection products
Product Description
Battery and Lifespan
This call point is powered by a tamper proof, sealed in lithium cell giving a completely wire free installation with a 10-year life. The front plate is made from a non-breaking plastic that means if the call point is used you can simply reset the plate, rather than having to replace it.
RadioLINK Technology
The Ei407 connects wirelessly using RadioLINK interconnection technology, so once in place you will need to House Code the switch into the alarm system.
Ei407 Operation
The indicator will flash green every 40 seconds to indicate that the battery is healthy.
The indicator will flash amber every 9 seconds to indicate that the batteries are depleted.
Spare Key available – Product code: MCRSK
Technical Specification
For use with 140RC when using an Ei168Rc RadioLINK base, 160e when using and Ei100MRF RadioLINK + module, Ei3000 series when using an EI3000MRF SmartLINK module or any RadioLINK enabled CO alarms.
Eliminates the need for any cabling between the Ei407 and the smoke and/or heat alarms within the system.
Features built-in tamper proof FDK Lithium cells, capable of lasting at least 10 years under normal usage. operating the yellow on/off switch sited on the back of the unit activates the cells. The LED on the front cover will flash red, amber, green on power up; after this it will flash green every 40 seconds to indicate a healthy power supply. If the LED flashes amber every 40 seconds, this indicates a depleted battery, and the complete unit must be replaced.
The product is CE marked to indicate conformance to BS EN 60065:1998 (Electrical Safety), EN300220-1 V1.3.1 (2000-09) (RF Performance) EN301489 V1.4.1 (2002-08) (EMC) and has been 3rd party tested for electrical safety in accordance with Annex K of BS 5446: Pt 1:2000.
Radio frequency: 868MHz in accordance with R&TTE Directive 1999/5/EC – this band has been designated for use with security products and only allows a 1% duty cycle, so continuous transmission and interference from external sources is extremely remote and would be illegal.
Up to 12 RadioLINK units can be used in one system. For larger systems contact our Technical Department for guidance, also see section 7.
Range: the type of building will be the major limiting factor e.g. the number and type of walls/ceilings that the radio signal has to pass through.
Low battery warning signal – LED indicator flashes amber every 40 seconds to indicate depleted battery, if this occurs the complete unit should be replaced.
Simply key to rest the unit (no broken glass).
Replacement key (MCRSK) available.
Ambient temperature range: 4°c to 40°c. Humidity range: 0 to 90% relative humidity.
External alarm RadioLINK signal: operates sounder on any smoke alarm (with a RadioLINK) in the system.
Units are in factory code when received (they will all communicate with each other). They must be 'House Coded' to eliminate the risk of adjacent properties communicating with each other. After house coding they will only communicate with other units coded at the same time.
House Code: Operate the red 'House Code' switch on the back of the unit. At the same time put all other RadioLINK units in the system into 'House Code' – see relevant instruction leaflets. The red LED on the front cover will flash rapidly to indicate that it is in 'House Code'. Each RF base will 'learn' the serial numbers of all units in the system (any other RadioLINK units). The number of flashes of the amber light on the RF units indicates the number of alarms in the system. All units will return to normal standby mode automatically after 15 minutes. Pressing the 'House Code' switch again will return them to normal standby immediately.
The Ei407 can be incorporated into a system consisting of any additional RadioLINK components.
Dimensions: 85mm x 85mm x 57mm deep including mounting box.
Weight: 240g including packaging.
5-year guarantee.
Manufactured in Ireland.
Alarm Accessories
Complete your fire, smoke, and carbon monoxide alarm network with our range of life-saving external devices.