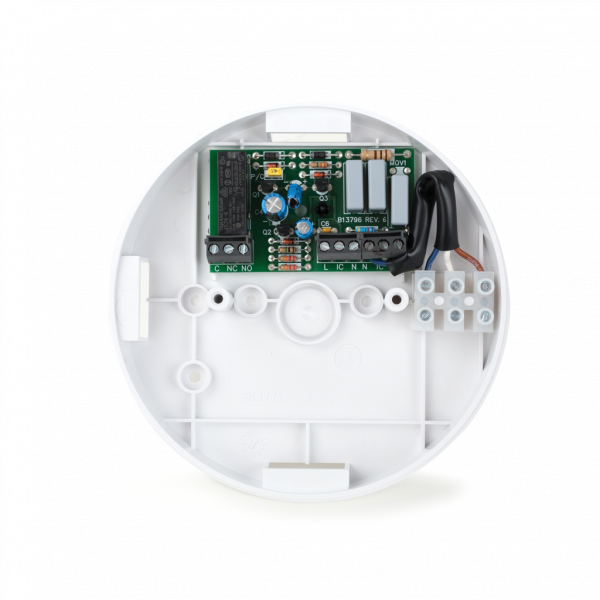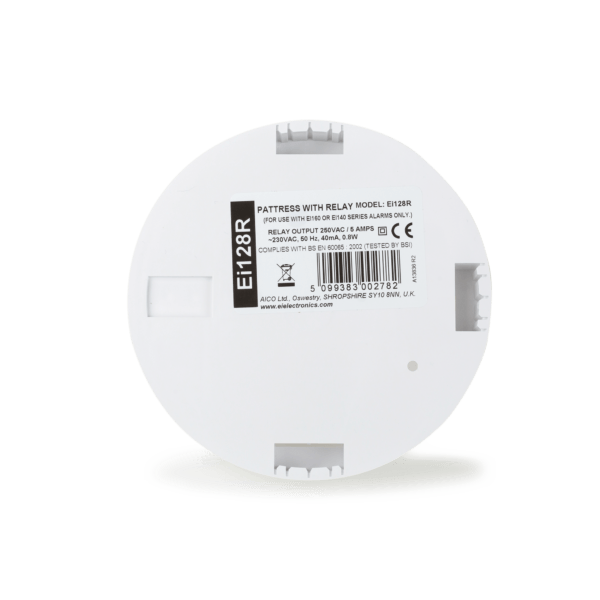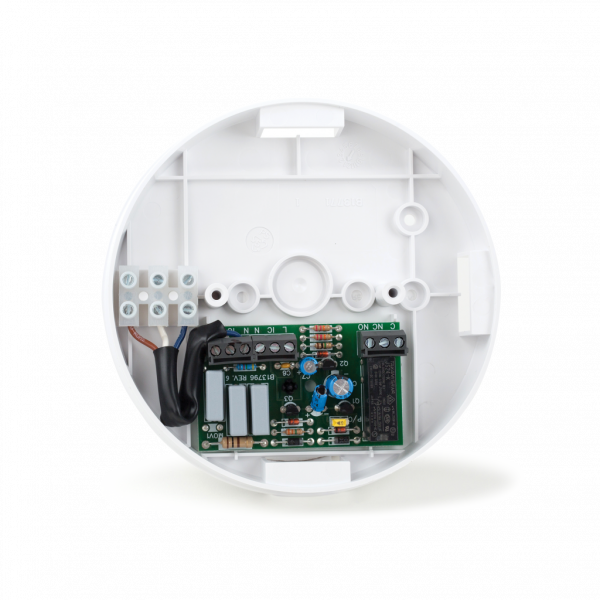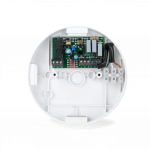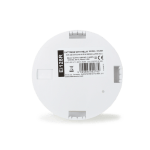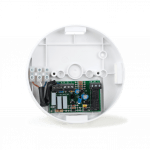 Ei128R Hard Wired Relay Module
This Relay Module triggers external devices if the alarms on the system are activated, such as a strobe light or telecare device
Mains powered
Connects with the alarm system through a hard wire interconnect
Easy to install with additional trunking knock outs easi-fit base footprint
Compatible with the 3000, Ei2110e Multi-Sensor Fire Alarm, 160e Series alarms and the 140e Series
Product Description
Compatibility
The Ei128R is a mains powered Relay Module that triggers external devices, such as a strobe light or telecare device, if the alarms in the property activate.
Compatible with the 3000, Ei2110e Multi-Sensor Fire Alarm, 160e Series alarms and the 140RC Series.
Installation
The Module has additional trunking knock outs to make it as easy to install as possible and is designed to fit underneath the space of easi-fit or RadioLINK base. However, a cover is supplied if needed and contains a set of volt-free contacts as standard.
The Relay module can be configured to give a 230V output or a 24V output using an external 24V supply.
Operation of the Ei128R
On receiving a signal from the alarm system, the relay contacts will be operated causing a signal to be sent to the device to which it is connected.
The Ei128R can be used to switch into a range of devices, ranging from indicating lights to magnetic door handles.
The module can be switched to give a pulse output, or continuous output for different applications.
Technical Specification
The Relay is designed to operate whilst the alarm system is sounding, to signal ancillary devices such as door closers, extractors, remote sounders etc. When any of the interconnected alarms sound the signal will cause the relay contacts to switch.
The Relay is mains powered and operates on receipt of a signal from the interconnect line of a smoke, heat or CO alarm. The relay does not operate if mains power is not present.
Volt free contacts – (Normally Open or Normally Closed) rated up to 240V AC/5 Amps, making it suitable for use with a wide range of AC or DC voltages.
The Ei128R is designed for siting under one of the smoke/heat alarms listed above. However, a cover is supplied if installing remotely or with 260 series CO alarms.
More than one Relay can be used in a set of interconnected alarms on the condition that no more than 12 units are used in the system (1 x Ei128R counts as one unit).
Fitted with a 4 way connector block for ease of wiring.
The relay can be set for Continuous or Pulse operation by operation of a manual switch – when in Pulse operation mode, the relay contacts will automatically switch back to their original state after 5 seconds.
Features 3 x 25mm trunking knockouts for surface wiring and centre knockout for recess wiring.
Dimensions of unit – 135mm diameter x 20mm depth.
Weight inclusive of packaging: 170g.
Manufactured in Ireland.
Alarm Accessories
Complete your fire, smoke, and carbon monoxide alarm network with our range of life-saving external devices.