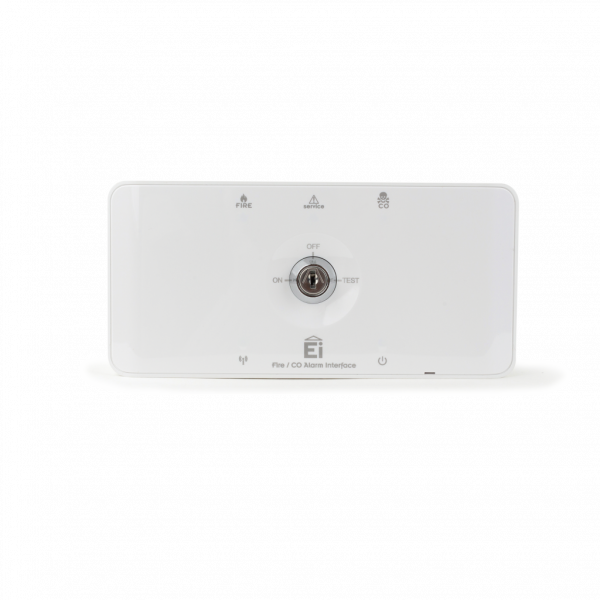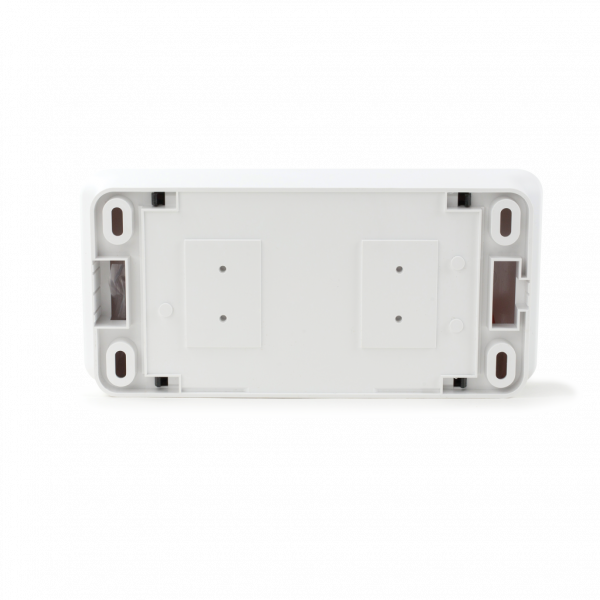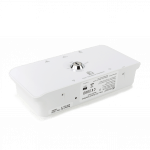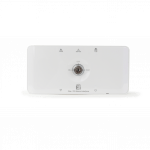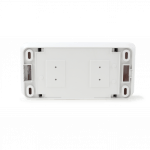 Compatible with:
Ei414 RadioLINK+ Fire/CO Alarm Interface
The Ei414 connects Aico domestic alarms to external devices.
Mains powered with rechargeable lithium cell back-up
Interfaces with Telecare/Warden Call devices, Sprinkler systems and many more
Uses RadioLINK+ wireless interconnection technology to connect with domestic alarms and accessories
Allows for simple testing of domestic and external systems
Connects wirelessly with all other Aico wireless interconnection products
Product Description
Are you missing the connection?
Most properties now have fire and carbon monoxide alarms fitted, but in most situations these domestic systems are not connected with other life saving devices throughout a property. This may include Telecare/warden call systems, fire panels and fire suppression systems, such as, sprinklers and water mist systems. Our Alarm Integration page outlines some of the situations where this may be the case and how an alarm interface unit may help.
What Systems can the Ei414 Connect with?
The Ei414 Fire/CO Alarm Interface is a flexible device that connects Aico smoke alarms, heat alarms and carbon monoxide alarms with a range of external devices. This means that lifesaving connections can be made quickly ensuring the safety of the occupants when faced with a fire or carbon monoxide leak. The Ei414 Fire/CO Alarm Interface can connect with:
Fire Panels Systems
Telecare / Warden Call Systems
Fire Suppression Systems
Gas shut down
Plant interface
Operation of Ei414 Fire/CO Alarm Interface
When the domestic alarms are activated, a signal is sent using RadioLINK+ to the Ei414 Fire/CO Alarm Interface.
The Ei414 Fire/CO Alarm Interface will identify the signal as a fire, Carbon Monoxide leak or a service requirement/fault.
This signal is relayed to the external device.
The external device can then transmit externally to any connected devices or support centres.
Technical Specifications
Supply Voltage: 230V AC or 10-30V DC Mains Power.
Current Rating: 230V AC = 1.6W 9mA. 10-30V DC = 1.8W 60mA.
Operating Frequency: 868.499 MHz.
RF Range: Over 100 meters in free space.
RF Visual Indicator: Blue light indicates RF activity.
Power Indicator: Green light indicates power present.
Alarm Indicator: Red light for fire (marked), Red light for CO (marked),
Service Indicator: Red light (marked).
RF Frequency: 868.499 MHz.
Mounting: Can be easily mounted onto a wall.
Guarantee: 5 Years.
Outputs: Fire Alarm Relay (NO/NC), CO Alarm Relay (NO/NC), Fault Alarm Relay (NO/NC).
Relay Contacts: All relays are rated 250V AC @ 5 Amp. Resistive.
Temperature Range: 0°C to 40°C. Storage – 0°C to 35°C (in a dry area).
Humidity Range: 15% to 95% Relative Humidity non condensing.
Dimensions: 185mm x 90mm x 37mm.
Weight: 300g.
Performance: Designed to comply with R&TTE, EMC and LV Directives.
Related Products
Complete your fire, smoke, and carbon monoxide alarm network with our range of life-saving external devices.