Did you know that insects can cause poorly designed Smoke Alarms to falsely activate?
These tiny terrors can wreak havoc in poorly designed alarms. However, well-designed alarms have layers of protection built in, mitigating the risk of false alarm activations.
Let's take a closer look at this issue . . .
In the UK, fruit flies are particularly common in summer months with gnats becoming more prevalent in the autumn when it starts to become more damp. Both species are extremely small, typically between 1mm and 3mm in length.
They can be attracted to the light and heat within Smoke Alarms, and if they gain access to the Optical Sensor within, can cause intermittent or continuous activation of the alarm system.
Multiple false activations can become extremely disruptive to the occupier of the premises and often results in call backs for the installer and customer dissatisfaction. This dissatisfaction and frustration could lead to the customer disabling the unit, resulting in an unprotected home.
So how and why does this happen?
The internal components of some alarm systems are easily penetrable by spiders and insects, due to an upturned dish cover design. They often contain exposed internal circuitry and an unprotected sensor.
Some manufacturers attempt to overcome these shortcomings by surrounding the sensor with a standard gauge mesh screen. While this may deter larger invaders from entering the Optical Sensor, the internal circuitry is still exposed to potential contamination.
Unfortunately, the fruit flies and gnats we see in the UK are very small and a standard gauge 1.8mm mesh is proven to be ineffective in keeping them out.
Most importantly, how can we defend against these troublemakers?
Minimising false activations should be designed into all alarms at conception – at Aico this happens as standard.
The first defence is the external cover, which forms a tight seal between the unit and the ceiling when secured to the mounting plate. The cover features a moulded baffle, which deters larger intruders from accessing the internal components of the alarm.
Should this be penetrated, the second layer of protection is the moulded cover plate that shields the internal circuitry and LED's; further preventing access to these components.
The final and key defence is an ultra fine mesh screen, built into the Optical Sensor itself. With holes 70% smaller than those used by other manufacturers, our ultra fine mesh reduces the potential for fruit flies and gnats from getting through – ensuring that Aico Alarms provide years of trouble-free protection.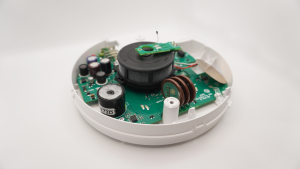 Reduce false alarms with our full range of Optical Alarms.