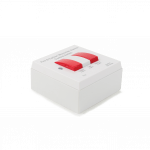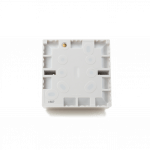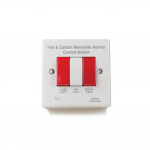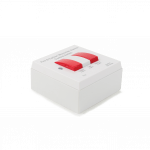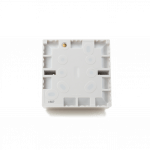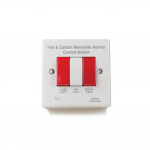 Ei412 RadioLINK Alarm Control Switch
The Ei412 is used to control all the alarms in a system from one place. We highly recommend fitting a control switch if you have smoke, heat and carbon monoxide alarms on the same system as it's essential that you can tell which alarm has sounded. From then you can identify which danger is present and the action you should take.
Install as part of the system to get more control over your alarms
Contains 10-year lithium cell – for completely wire free installation
Connects wirelessly with all other Aico wireless interconnection products
Test, Locate and Silence from one unit
For use with Fire and Carbon Monoxide domestic systems.
Suitable For:
Product Description
Battery and Lifespan
The Ei412 is powered by a tamper-proof, sealed in lithium cell giving a completely wire free installation with a 10-year life.
RadioLINK Technology
This Alarm Control Switch connects wirelessly using RadioLINK interconnection radio technology, so once in place you will need to House Code the switch into the alarm system.
Test, Locate and Silence
The Control Switch increases the flexibility and user friendliness of the alarms by allowing the user to remotely Test, Locate and Silence alarms in the system:
Test – The alarm system
Locate – The alarm that has been activated
Silence– Any nuisance alarms
Technical Specification
Units are supplied in factory code when received (they will communicate with all other RadioLINK models also in factory code). They must be 'House Coded' so that they will then only communicate with other units 'House Coded' at the same time.
'House Coding' – With the Ei412 fitted in its final position, press the 'House Code' switch on the back of the unit and watch for the red LED to illuminate through the outer cover (under the 'Test Alarm' switch) then release the switch. The red LED will then flash to indicate the number of units it is coded with.
Put each alarm in the system into 'House Code' mode by following the instructions supplied with the product. The Ei412 will transmit its own code to all other units in range and will return to standby automatically after 30 minutes. Alternatively, press the 'House Code' switch to return it to standby immediately. Note: the red light flashes on the Ei412 indicate the number of alarms in the system.
A RadioLINK Manual Call Point, Ei407, Repeater base, Ei420, Switched Input Module, Ei408, and a Remote Relay Module, Ei428 are also available for use in the system.
Overall dimensions: 88mm x 88mm x 42mm deep – including mounting box supplied.
Weight inclusive of packaging: 224g.
5-year guarantee.
Related Products
Complete your fire, smoke, and carbon monoxide alarm network with our range of life-saving external devices.