Aico understand the hard work and passion that goes into creating a high performing team and are proud to be supporting PBM Racing this year.
Aico, like PBM racing, have a heritage of high performance and quality. For over 30 years Aico have been the market leader in Fire and Carbon Monoxide protection, ensuring the safety of families across the UK. Aico have now teamed up with PBM Racing as proud sponsors and will be offering the exciting opportunity to win British Superbike tickets, every month, as part of the Aico Installer Community Online which will be launching soon.
In March, Aico were lucky enough to display the PBM Superbike on their stand at Elex Manchester, showcasing not only the latest technologies in domestic Fire and Carbon Monoxide protection but the sponsorship of PBM Racing, much to the delight of many installers and contractors visiting the Aico stand.
The Aico Installer Community Online is designed to reward customer loyalty for those who have completed Aico's award winning, CPD accredited Expert Installer Core Module. To find out more about the community and to register your interest, please visit www.aico.co.uk/community.
Meanwhile the British Superbike season got underway at Donnington Park where Aico's Managing Director Neal Hooper was able to attend under strict social distance measures and enjoy cheering the PBM team on, in the hope they would hit the ground running in the new season. Neal Hooper commented following the event "It was great to cheer the PBM team on and be able to spectate as a sponsor. I cannot wait to reward our clients loyalty through the Aico Installer Community Online and bring them along and enjoy the spectacle that is the British Superbikes."
PBM (Paul Bird Motorsport) returned to the British Superbikes tracks in 2014 after a number of years in the World Superbike and MotoGP Championships. Since their return, they have enjoyed unprecedented success seeing them take the title in their first year back and add a further 3 titles since last year. Continuing into 2020 as VisionTrack Ducati with 2019 BSB Runner Up Josh Brookes, riding the Ducati Panigale V4 R alongside Christian Iddon. Brookes returns to PBM for an 11th season in BSB and looks to add to his title from 2015 whereas multiple time British Supermoto champion Christian Iddon joins PBM hoping for success after an injury struck past few seasons. The talented pair will be competing for the MSV-organised series, the crown jewel of the superbike world attracting the best bikes, riders, and teams from all over the world.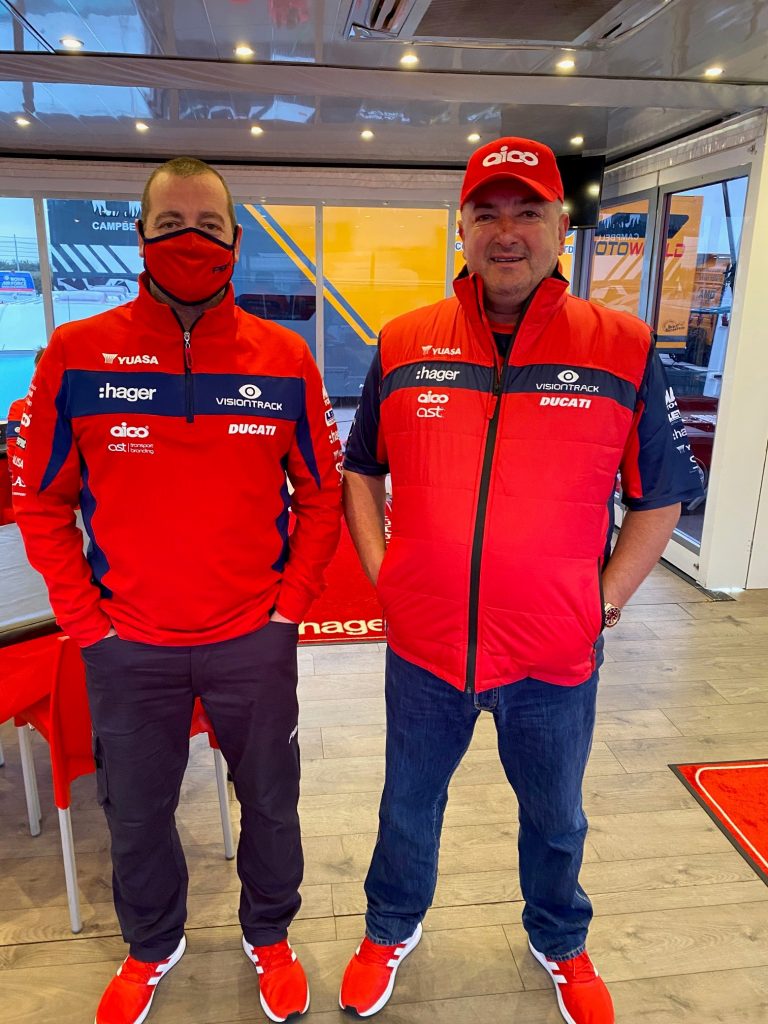 Photo: Left to Right: John Mowatt, Race Team Coordinator and Paul Bird, Owner of PBM.