Aico have recently welcomed ten students across two weeks in July from The Marches School and Sixth Form to take part in their work experience programme. The market leader counts education amongst its key values, not only within their sector but for future generations within their local community.
Students were given the choice of departments they were interested in, including the Operations team, getting hands on with the logistical side of a company, helping pack and ship orders all over the country. Time was spent with the Technical team, giving students a chance to sit with Technical Advisors, discussing Electrical Contractor queries and troubleshooting issues. Students gained experience with the in-house Sales team, getting hands-on with order processing, customer FAQs and customer service. The Marketing team gave the visitors a taste of design experience, with the opportunity to create flyers, adverts and social media campaigns while the Product Development team allowed students to explore the inner workings of their market-leading products. Finally, students were also given further insight into Aico's community work, spending time volunteering with Little Stars Baby Bank.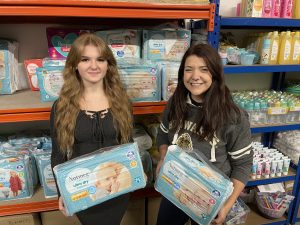 Student Shannon Stevens aiding Founder and Chief Executive of Little Stars, Leanne Simcoe.
Aico's Sustainability Lead, Ryan Evans has been coordinating the students visit, adding "Work experience is a vital part of Aico in the Community. We believe that everyone deserves the opportunity to learn and grow in a professional setting and we want to help young people discover their passions and develop the skills they need to succeed in their careers. Work experience students at Aico have the opportunity to spend time in every department across the business, which provides them with a good insight into the world of work."
Daisy Jones enjoyed her time with Aico commenting "This week, I had the pleasure of participating in work experience at Aico, an unforgettable opportunity to gain a valuable insight into the industry. From the moment I arrived, I was warmly welcomed and given a comprehensive tour of the facility. Throughout my time with Aico, I got to explore three departments, Product Development, Marketing and Sales. These are completely different areas in maintaining a business, I could see all the different roles and responsibilities within Aico, all equally as important. As I would like to study business in university, being able to experience a day in the different departments has helped me to narrow down what business path I would like to go down and centre my future around.
One of my highlights was working with the marketing team. I was entrusted with creating content for Aico's TikTok, which helped me to understand the role of social media in modern business but was also a lot of fun to film as we were given access to the whole building, we even got the chickens on the site involved. Overall, my work experience at Aico was an enriching and rewarding opportunity that allowed me to gain invaluable experience and develop skills that are life lasting. I would highly recommend work experience at Aico to anyone, as no matter what you wish to study, I can guarantee you will leave Aico with a new wealth of knowledge and therefore a better understanding as to where your career is heading."
Since the launch of Aico in the Community in 2018, the three-time Shropshire Company of the Year have developed an engaging and inclusive work experience programme for local students to gain real experience of how the working world works. Aico has to date supported over 12,000 students with not only work experience placements but over 150 educational school visits and on the road FIA CPD accredited training sessions for colleges all over the UK. If you would like more information on Aico in the Community and their educational offerings, please visit: In The Community | Aico